Boy, this thread is turning out to be quite an interesting one.
I can really indentify with many of your opinions and feelings, twan55. As a boy, I was an avid Corgi collector. No Dinkys, no Politoys, but Corgi! I was born in Mexico, and here, they were impossible to find, but I was fortunate enough to have parents (and family) who liked to go shopping to the United States (usually Texas and Arizona) a couple of times a year, and brought marvellous Corgi models as presents!
My all time favourite model was (and probably still is) Corgi's Green Hornet Black Beauty. I bought mine in San Antonio (Texas) in the summer of 1971, and soon after, (during the summer of 1972) it was followed by the famous Batmobile and Batboat set. James Bond's DB5 was another favourite of mine, and I've had both the old (gold) version and the newer one, (packed with great features) since about that time too. I was born in the early 60s, so my collection was just starting when Whizzwheels arrived. I never liked them, but I had no choice. Like you, I just couldn't understand those silly looking wheels! At that time, I hated Hot Wheels for being a bad influence on both Corgi and Matchbox!
Unlike yourself, I like American cars up to the 80s, and even some newer ones, and I remember when my grandmother gave me the Buick Riviera and boat set that she brought from Tucson. Unfortunately, only the Buick survived, and I had it repainted a few years ago. I also remember my first 1959 Thunderbird and 1965 Imperial convertibles. I lost both of those when I was about 8 years old, but was fortunate to buy them again some years ago. My other grandmother gave me the amazing Lincoln limousine, and it got destroyed in the early 70s by my younger brother (he was responsible for the loss of most of my old Matchbox, Schuco and Siku models). I looked for a replacement of the Lincoln for years, up until a couple of years ago when I finally found a decently priced one on eBay.
My decision to stop collecting Corgis came during the mid 70s, when they began doing those silly 1:36s. By then, I had also discovered Rio and Solido models, and I was very impressed by them. It was during my first visit to Europe, in the summer of 1978, when I bought my first six Rio models, that I stoped buying "toys" and began buying collector models.
Thanks to GoMotorBids and then to eBay, I've recently bought some old Corgis and many Dinkys too. There's still a couple of Corgi and a few Dinkys that I would love to add to my collection, although I now concentrate on much newer models by Minichamps, Ixo, etc.
If you haven't, visit the first three pages of my collection's thread. I'm sure that you'll find many models that you'll probably like.
http://scale143.com/viewtopic.php?f=31&t=225
...as an example:
Alfa Romeo Giulia SS, by a Spanish company called Joal: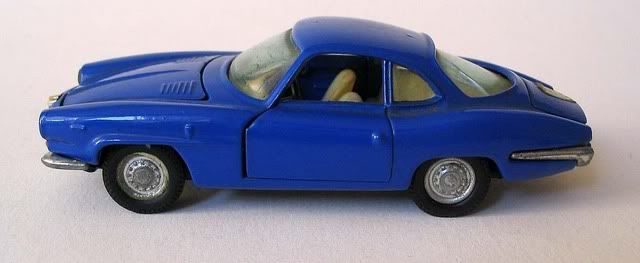 A rare Alfa Romeo 2600 SZ -Zagato-, by Politoys Mexico:
GBOAC002 wrote:...One of our other prolific collectors on this forum has some of the South American market Politoys whose brand name escapes me for the moment.

...
I think that you were talking about me, Ian!
Politoys made in Mexico were marketed as Politoys too, and I'm not sure if they were ever exported to South America.
The other Mexican brand was McGregor. They did mostly vintage cars (I have them all), they were plastic, and I believe they used French molds.