Yes David, only the rich and famous could afford to have their Fires put out...
Thank's Bizi and BertOne.
I have been looking at some of the members collections and they are truly stunning and I am very envious about a lot of the display cabinets you Guys are using.
I have been collecting Rolls-Royce and Bentley models at a serious level since the mid-70's and in all that time I have not had any on display except for a handful of my own creations in a well known model retail shop in the early 1980's, none of my precious Rolls-Royce are on display at my Home, it just is not possible, they have to stay in boxes until I need to take pictures of them or I need to do some research, I then get out up to 40 models in one go, but they can not stay out too long.
I am not sure where my own creations or customs are to be posted (advise please!), but until then, here is another one of mine, not so much of creation rather more of an enhanced model.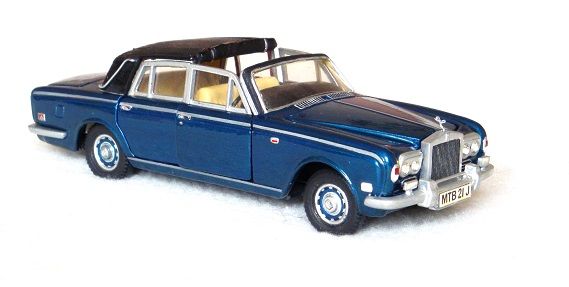 This is a very old project using a Dinky Toys Silver Shadow, cut away the roof above the driver, hand painted Walnut dash panel, actual padded top roll on the dash, some added outside detail painting and one of my special Silver Lady mascots made out of a single strand of wire, hope you like it.
Ghosthunter.