Posts: 21887
Joined: Fri Aug 23, 2013 9:29 am
Location: The Netherlands
---
Posts: 16039
Joined: Wed Dec 31, 2008 8:27 am
Location: North Wales - UK
Where's the bloody blinds? Defeats the scam without them
---
Site Admin
Posts: 40911
Joined: Mon Dec 29, 2008 11:25 am
Location: Bedford
Contact:
---
Posts: 85
Joined: Thu Feb 17, 2011 2:35 pm
thats very nice, cant understand why no ones made this coach, what kind of price would these work out at
---
Posts: 2
Joined: Tue May 01, 2018 5:29 am
These models are really excellent. Now I have a really strange request and I am hoping someone can please advise me.
I am looking for a really good high resolution image or images of the coach used in The Italian Job. It is for an academic paper (one for use in a school classroom) and I am not able to use a still from the film. But a photo of the offside of a model of the coach with his rear half hanging over the edge of the precipice would work, as would a really good drawing/ painting of same to recreate the picture from the film shown below.
A diorama of the scene might be ideal but I could get around this simply by having the coach in sharp focus and any background really blurred (bokeh) as with the image at the bottom of this post. I would not be able to offer payment as I am not being paid for the paper. I am a teacher and I am writing the paper for 'fun'. The journal would need permission to use the image(s) but the image owner would be credited.
If anyone has any ideas then please let me know or I will have to resort to coming up with my own drawing. If not too far, I would be happy to travel to take photos or perhaps there is an inexpensive model I can buy on eBay or similar.
Permission to use the image below would be really appreciated but I don't know who owns it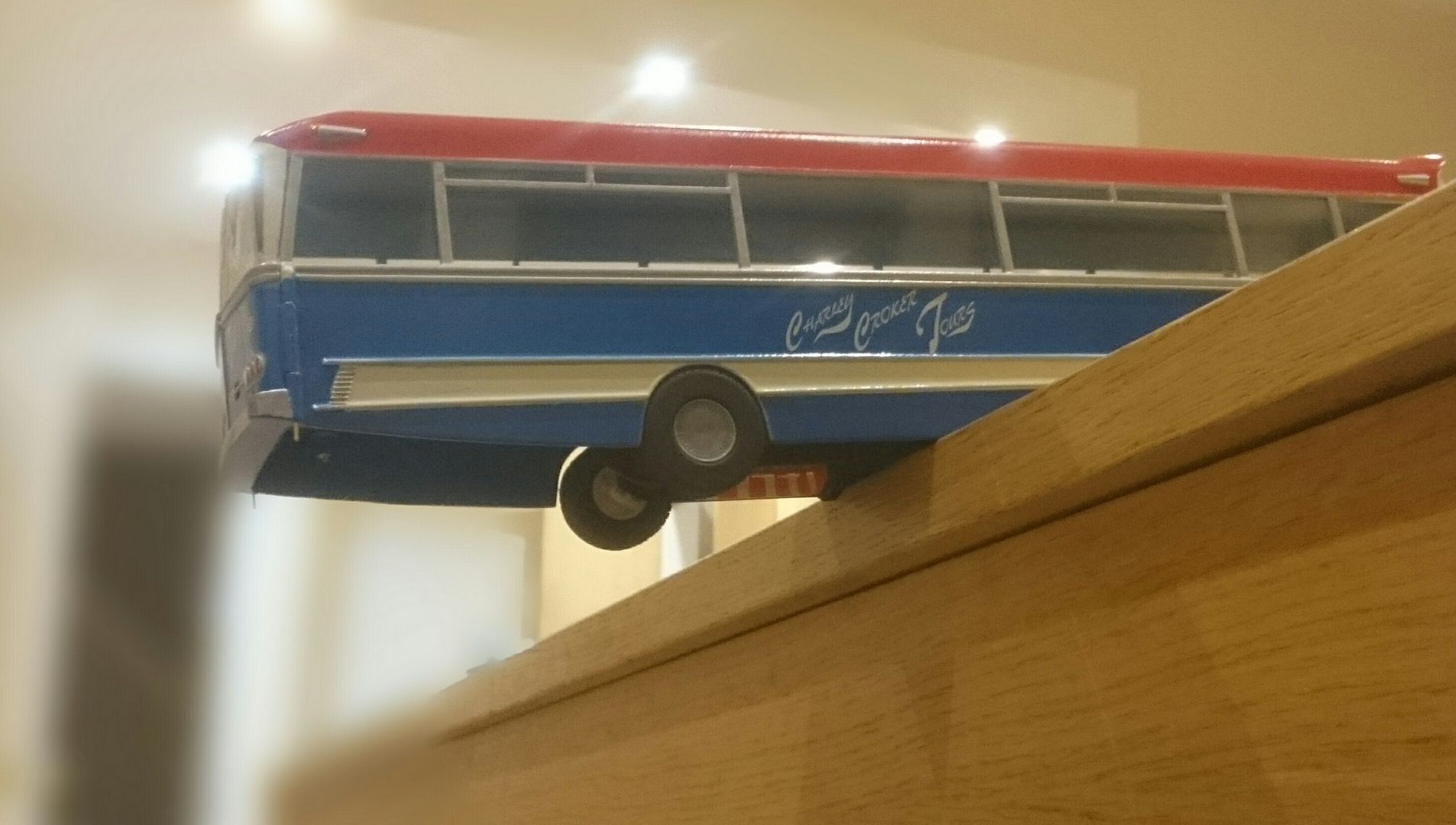 Thank you and have a good weekend
---
Posts: 11791
Joined: Tue Jun 29, 2010 9:29 am
Location: Perth, Australia
Corgi did an 'Italian Job" set with the coach, so you could always track one down on eBay and photograph your own diorama.
Eg :
https://www.ebay.co.uk/itm/CORGI-TOYS-3 ... SwD5Za1ADK
A modelmaker has also made this diorama :
https://c2.staticflickr.com/6/5038/5890 ... 448a_b.jpg
"Racing is life. Anything before or after is just waiting." - Steve McQueen
---
Posts: 21887
Joined: Fri Aug 23, 2013 9:29 am
Location: The Netherlands
Those are 1:36. I guess that would not matter for the purpose though.
---
Posts: 2
Joined: Tue May 01, 2018 5:29 am
Thank you for your replies. I don't really want to buy a model, though I could sell it on. I may have to resort to that in the end but at £100 a pop it would be expensive if I couldn't sell it on. Does anyone know how I could track down the owner of the image of that diorama so that I can seek permission to use it. Thanks again for posting a response and apologies for taking so long to get back to you.
---