I have only done a wheel change on two Politoys Lamborghini Jaramas (both purchased in the late 1980s) which from memory only came with horrible one piece plastic 'whizz' wheels.
In Europe as far as I'm aware the Politoys Jarama was only available in Red with matt black bonnet and boot, or silver with similar matt black bonnet and boot. That Politoys didn't make a decent job of the Jarama like they did for their other Lambo 'Export' Series cars was a shame. I blame the acquisition of the Italian company by Mattel/Hotwheels for the 'dumbing down' and cheapening process which was partly driven by fashions of the day when whizz wheels were all the rage on 'toy' cars.
Proper moulded metal wheel rubber tyres for this 'orphan' came from chipped and beaten up Lamborghini Export Series I Espada and Miura sourced from Toy fairs for a very low price.
As Politoys and Mebetoys of the period cars mostly had screw on bases it was relatively easy to take them apart to make the swap. I vaguely recall buying the correct gauge metal rod, cutting it to the right length and then 'burring' the ends over. Unlike Dinky and Corgi which had thick axles the Politoys cars had much thinner axles.
The wheel swap made for a complete transformation. Somewhere I have digital pics of the pair of Jaramas with their new wheels.If I can locate my old pic I'll post it here. I may be gone some time....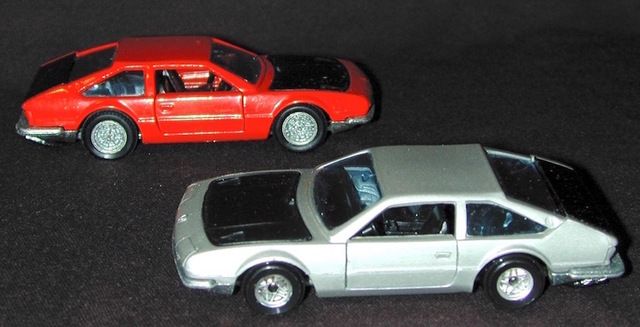 Silver car shows original whizz wheels. Red car has the new Lambo wheels.