Posts: 8722
Joined: Thu Jan 01, 2009 1:24 pm
Location: Calgary, Canada
Contact:
The biggest difference that I can see is the side sliding window and neither one is 100% accurate
---
Posts: 9484
Joined: Wed Dec 31, 2008 8:13 am
Location: Hampshire, UK
Contact:
TSM looks easily good enough for me. In fact, the slightly muted colours of the Union flag are more how I remember the real car than the really vivid ones on the BBR.

Haven't found it for sale yet, but it's unusual for me to even be looking so keenly. Hoping to have the cash for one, so would be glad to be notified as they start becoming available.
---
Posts: 416
Joined: Wed Nov 18, 2009 4:57 am
Location: East Herts, UK.
Looking at them both, I'm sorely tempted by the BBR. I used to have a few Make Up 1/43s and they were perfect. Never actually owned a BBR - had gasoline model though - but I think it pips it for me. Whether it's worth double the price of the TSM, I'm still working on that.

ETA :: used to have a Tecnomodel 430 GT2 and that was a superb model. Wonder if they will do a 458 GT2.
Matt.
Bored? Check out my
flickr
.
---
Posts: 26707
Joined: Wed Jan 07, 2009 3:34 pm
Location: Guadalajara, MEXICO
TSM...here we go again...
These two gorgeous looking models have just been introduced by TSM, or at least they are already being sold in eBay. They both look nice but...
1952 Rolls-Royce Silver Wraith Park Ward saloon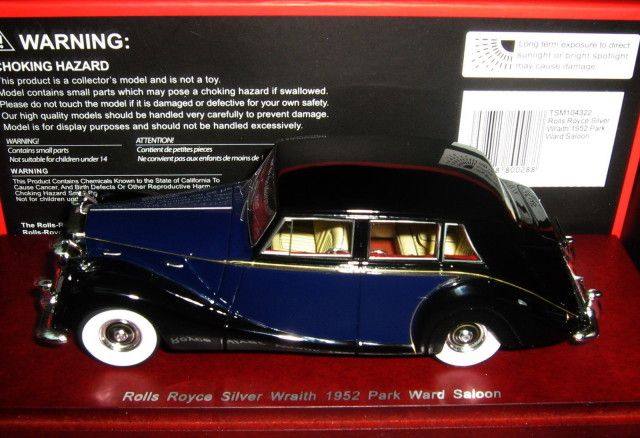 First of all, this Silver Wraith is labeled as being by Park Ward. However, I believe that this particular car has a body by Hooper, probably design #8283. And, one other thing, the super wide whites look absolutely out of place. These are the kind of tires that tacky owners love to use on their collectible cars!
1970 Rolls-Royce Phantom VI James Young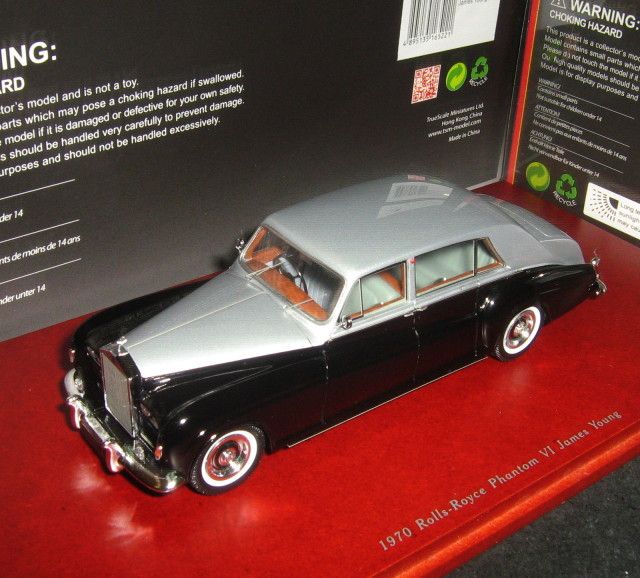 Nice colour, great proportions, correct size white walls. A great job! Except that they mislabeled it completely!!!
There were no Phantom VIs done by James Young. Besides, they ceased coachbuilding in 1967. So, wrong model and wrong year!
Isn't it really stupid of a company to put so much effort in doing such a nice modeling job, and then commit such dumb labeling mistakes! It's really infuriating!
In spite of all that, I know that I'll end up buying both of these beautiful models, in order to join my other TSM mislabeled Rolls-Royce models!
---
Posts: 6298
Joined: Sat Aug 01, 2009 10:26 pm
Location: Florida
Julio, your knowledge of the coachbuilt Rolls-Royce is far greater than mine! That being said, mark me down for BOTH of these gorgeous cars, especially the earlier one since it contrasts so nicely with the mostly silver/black/white that TSM has used thus far on R-Rs!

BB
You Can LIVE in a Car, But You Can't DRIVE a House
---
Posts: 5489
Joined: Thu Oct 29, 2009 1:36 am
Location: Houston, Texas, USA
So what would the correct label be for the 2nd Rolls?
The dog wet on the picnic basket!
---
Posts: 26707
Joined: Wed Jan 07, 2009 3:34 pm
Location: Guadalajara, MEXICO
sheepCrusher wrote:So what would the correct label be for the 2nd Rolls?
1967 Rolls-Royce Phantom V by James Young
...and if you'd like to include its design number, that would be PV23.
---
Who is online
Users browsing this forum: No registered users and 1 guest