Earlier this week, "Mr Momo", Gianpiero Moretti passed away at the age of 71. He was said to be the last real "gentleman driver" of our times and during a career spanning 4 decades he took part in hundreds of races and drove over 40 different types of cars creating a long-lasting bond with both Porsche and Ferrari. I thought I'd pay my respects with a small tribute featuring just a couple of the cars he drove and hope if you have others you might contribute also.
Even though he belonged to a high-class Milan bourgeoisie family, Moretti didn't want to be financially dependent on his family and so right from the beginning of the sixties, he started work building steering wheels for competition cars. He had already been racing a Lancia Zagato both on tracks and in hill climbs and from these personal experiences he was one of the first to have the insight to reduce the diameter of the steering wheel and make the hand grip more ergonomic.
His part-time job quickly turned into a real business, and boomed in 1964 when Enzo Ferrari in person ordered a leather steering wheel to be mounted on John Surtees' 158 F1. The steering wheel turned out to be a huge success and to top it off, John Surtees won the world title in 1964 using that steering wheel. From that moment on he became the official supplier of steering wheels to Ferrari.
In 1966 the business underwent a drastic change when Moretti founded MOMO Sas (the first two letters stand for "Moretti" while the second two letters stand for "Monza"). Trips to Maranello became more frequent and the relationship grew building his love for Ferrari. When in 1970 Ferrari had 25 examples of the Ferrari 512S to sell to comply with the rules of the World Sportscar Championship, Moretti was well placed to secure one of the cars and make his international debut at a high level in the 1970 Daytona 24 Hours (his only preparation being a mere three laps of the Modena race circuit to verify everything with the car was in order).
In the mid 1970's, Moretti immigrated to the USA, where he became a permanent fixture in the IMSA series behind the wheel of various GT's from Porsche. His Porsche 935's and the Moby Dick versions with the long tails were not always amongst the most competitive cars but were always amongst the most well presented with their Red and Yellow MOMO livery. Off the track the MOMO pits and motor home were always a focus of attention and his nosh-ups of spaghetti became legendary. It wasn't uncommon to find competitors like Mario Andretti or Paul Newman eating spaghetti in the MOMO tent on a race weekend and he became a close friend of both. He enjoyed other activities away from the track as well (his girlfriend in 1979 was Penthouse Magazine's 'Girl of the Year' !).
Here's Moretti's Porsche 962 (by Spark) that he raced at Le Mans in 1990, towards the end of his association with the Stuttgart marque :
Despite his long association with Porsche, he never gave on his dream of having a competitive Ferrari to drive in America. For many years he pressured Enzo to develop a sportscar for the IMSA series, and season after season, Enzo used to repeat the same reply, "Moretti, next year I'll have a car for you to race with in the US". The dream never eventuated while Enzo was alive, but in 1993, after a lot of insistence, Ferrari finally accepted that building a sports car designed for IMSA would be good business for them with no shortage of potential clients. By 1994, Moretti finally had a car to prepare for the IMSA series classics.
This is Moretti's 333sp from Le Mans in 1997 (by Minichamps), where the team finished in 6th place :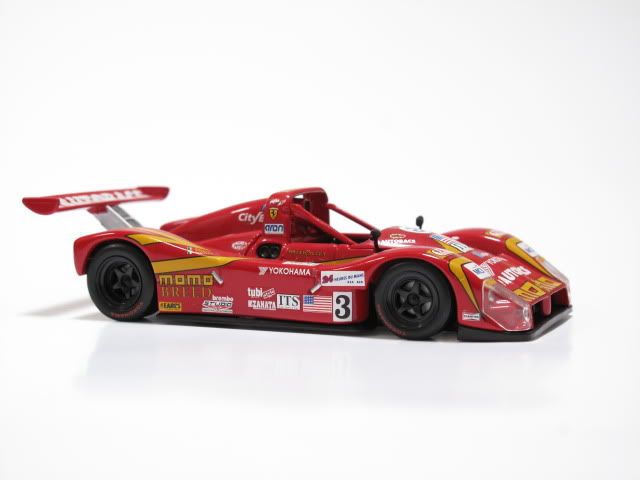 However, it wasn't until 1998 that Moretti finally achieved his ambitions for the 333sp when on the threshold of his 60th birthday, he won the 24 Hours Daytona, the 12 hour Sebring and the 6 hour Watkins Glen races (in that order). They were the three most important races in the American series and by doing so he made history in this category. He then decided it was time to hang up his helmet with nothing left to achieve.
According to Racing Sportscar website, Moretti started in 284 races, finishing 174 of them and achieving 18 wins, 21 seconds and 15 thirds to finish on the podium 54 times. To see more of the cars Gianpiero Moretti drove and his race results follow the link below. When you see the number of atttractive Momo cars he raced, it really is surprising that there haven't been more models of his cars made.
http://www.racingsportscars.com/driver/ ... tti-I.html