With a few more models in the garage, I finally have the chance to make a comparo between two very similar models, from different manufacturers. They're not the exact same car, but they're so alike that I think it's possible to have a good idea about the general quality level of the manufacturers.
The model on the left is a 956 (#12) by
Minichamps
, while on the right is a 956B (#7) from
Ixo
.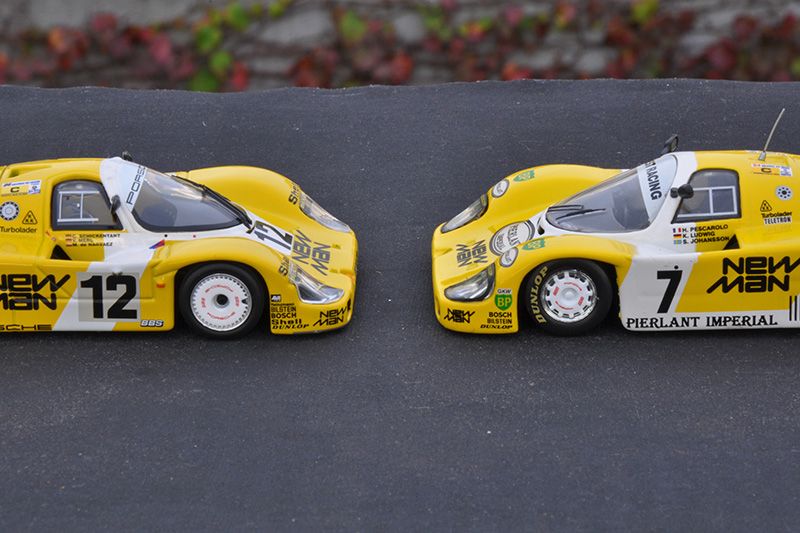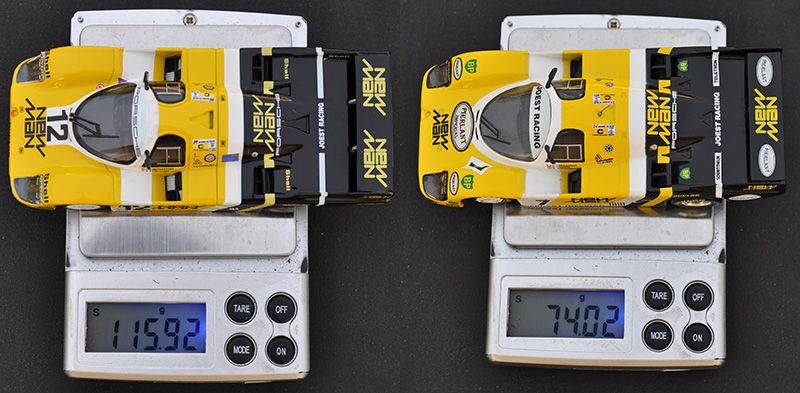 At first, I thought Ixo's version was the best one, specifically because of the paint job, that to my eye is a bit crispier, and also because of the wheels, that seem a
little
better. But when I got both together for these shots, I'll had to revise my initial assessment. I still think the Ixo has a better paint job and (a little) better wheels, but looking at the air intakes and exhaust, MC comes ahead. Another point to consider is that the windshield wiper is a separate part on the MC, while on the Ixo it's molded directly on the windshield. I didn't see an advantage of the MC there because it's finely molded on the Ixo, to the point (at least at a distance) that it looks almost better. And as you see from the last pic, there's also a good difference in weight.
Sooooo, which one is better? Putting them side by side, I'll have to go with the obvious one -
Minichamps
. But just because of the better detail level on air intakes specially. However, if you factor in price, than my answer could be different, because at least down here the Minichamps is almost 60% more expensive than the Ixo model. Bottom line is that the cheaper model is pretty darn good, and the more expensive one is only a bit more detailed. Which one is the best? I guess that will depend on how high this car is on your grail scale. But then, if it's a true grail car, perhaps you need to invest more serious money for a true high-end version
. But since there are seven 956/956B in Newman livery that raced at LM, there's a lot to choose from.