Posts: 328
Joined: Tue Jun 28, 2011 12:11 pm
Long time I didn't post here. Here is some spam. Just bought the Rossi car last week.
Ixo Ford Fiesta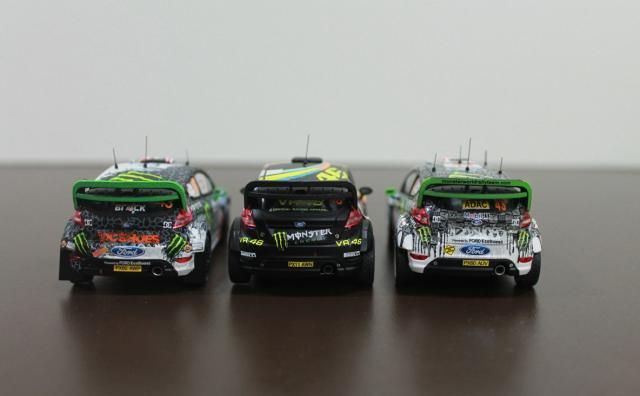 ---
Posts: 11060
Joined: Tue Jun 29, 2010 9:29 am
Location: Perth, Australia
You wouldn't normally expect to find Ford Fiesta's under a 'Race Car' thread, but these look interesting.
"Racing is life. Anything before or after is just waiting." - Steve McQueen
---
Posts: 20989
Joined: Fri Aug 23, 2013 9:29 am
Location: The Netherlands
Monster energy livery looks great on the Fiesta, makes it look like a small powerhouse.
---
Site Admin
Posts: 40235
Joined: Mon Dec 29, 2008 11:25 am
Location: Bedford
Contact:
Like these a lot and have been tempted many times. Really trying to hang on to the "no rally Cars" theme.

Welcome back
---
Posts: 42
Joined: Sat Dec 07, 2013 3:45 pm
Location: High Wycombe, Buckinghamshire, England
Great looking cars, I want to get some to add to my rally collection.
---
Posts: 9484
Joined: Wed Dec 31, 2008 8:13 am
Location: Hampshire, UK
Contact:
All three look great. Surely one of IXO's best. I would add one myself, but like Jeff I don't think I can sustain another theme.
---
Posts: 7951
Joined: Fri Jul 16, 2010 5:23 pm
Location: Born in Scotland/Live in Weston-super-Mare
A superb line up and I'd have all of them in my collection without any doubt.
---
Posts: 328
Joined: Tue Jun 28, 2011 12:11 pm
Thanks guys. Actually I planned to collect Ixo Ford Fiesta with Ken Block and Valentino Rossi only.
And this is my next target
---
Posts: 190
Joined: Sun Jul 04, 2010 9:08 am
Nice lineup........must complete it...while still have......
---
Who is online
Users browsing this forum: No registered users and 1 guest