Site Admin
Posts: 39980
Joined: Mon Dec 29, 2008 11:25 am
Location: Bedford
Contact:
---
Posts: 20247
Joined: Fri Aug 23, 2013 9:29 am
Location: The Netherlands
---
Posts: 2563
Joined: Fri Sep 05, 2014 12:00 pm
Location: Luxembourg
Contact:
That's a beautiful Truck with Corvette's
Patrick
http://www.modell-autos.lu
---
Posts: 2168
Joined: Thu Jan 01, 2009 11:39 am
Location: New Jersey, USA
I saw that this morning also Jeff. That's some piece of work. Maybe he'll show us step-by-step how he modified the New Ray trailer.
---
Posts: 10504
Joined: Tue Jun 29, 2010 9:29 am
Location: Perth, Australia
Looks pretty realistic.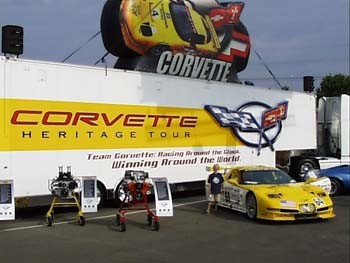 Pity Eligor or LBS never made one in 1:43 (at least not that I'm aware of). I would have thought a Corvette transporter would sell better than some of the obscure F1 transporter's they've produced.
"Racing is life. Anything before or after is just waiting." - Steve McQueen
---
Who is online
Users browsing this forum: No registered users and 2 guests