Just like the title says, this topic will show military vehicles used by different armies during the WWII. If you have and would like to post your military models from that era, in scale 1:72, here, please do so. Thank you.
Jagdtiger - War Master
Jagdtiger (Hunting Tiger) was a German heavy tank hunter in the WWII built by Nibelungenwerk (Steyr-Daimler-Puch). The official German designation was Panzerjäger Tiger Ausf. B as it was based on a lengthened Tiger II chassis. The ordnance inventory designation was Sd. Kfz. 186. It was the heaviest armored fighting vehicle that saw action during WWII and also the heaviest tank that went into mass production. This heavy tank destroyer was built as a result of the previous success of other self propelled guns such as the StuG III, Marder I, Marder II, and Marder III. The use of fixed casemates instead of moveable turrets also allowed the mounting of larger caliber guns.
As main armament it had a 128 mm PaK 44 L/55 gun, capable of destroying any Allied tank at extreme ranges (3500 m). But the firing rate was slow since it needed two servants, one to load the shell and the other to load the cartridge. 150 pieces were ordered but only 88 pieces were built and saw service in small numbers from late 1944 to 1945 on Western and Eastern Front. Jagdtiger was never fielded in sufficient numbers to be very effective.
However, most of the Jagdtigers were lost or destroyed by their crews due to mechanical breakdowns, especially engine failures due to its heavy weight and under-powered engine and track problems or because of the lack of fuel. Also towing was difficult since for one brokedown Jagdtiger a Bergenpanther and 2 Sd.Kfz 9 were needed.
Jagdtiger #115 was part of Schwere Panzerjäger Abteilung 653 (Heavy Tankhunter Battalion 653). Schwere Panzerjäger Abteilung 653 fought the advancing U.S. Army in March and April 1945 in the area south of Mannheim, from Neustadt an der Weinstrasse, past Speyer, to Heidelberg, and then retreated to southern Bavaria toward Austria. While few of their vehicles were knocked out by enemy action, several broke down, or had to be abandoned and blown up by their crews.
Three Jagdtigers, among which was #115, under the command of Lieutenant Hans Knippenberg were ordered to go to Heidelberg (Schwetzingen) to delay the American advance from Mannheim. They arrived at Schwetzingen on 30 March 1945, around noon. But the first American armored units arrived earlier than anticipated and engaged the Jagdtigers immediately. The #115 got stuck with one of its tracks in a ditch at the edge of a field in northern Schwetzingen and was immobilized. The crew – commander Hans Knippenberg, driver Hermann Loft, radio operator Hans Distler, gunner Heinrich Schäfer and 2 unknown loaders blew up the vehicle using some explosives and firing a Panzerfaust at it. All of them escaped without any losses and fought their way back to the German lines at Sandhausen.
Some specifications:
- weight 71.7 tones
- length 10.5 meters (including gun)
- width 3.6 meters
- height 2.8 meters
- crew 6 (tank commander, driver, radio operator, gunner, 2 loaders)
- armor 250mm
- armament: main gun 1 x 128 mm PaK 44 L/55, machinegun 1 x 7.92 mm Maschinengewehr 34
- engine V-12 Maybach HL 230 P30 700 PS
- operational range Road: 120 km , offroad: 80 km
- speed 34 km/h
Photos with the real Jagdtiger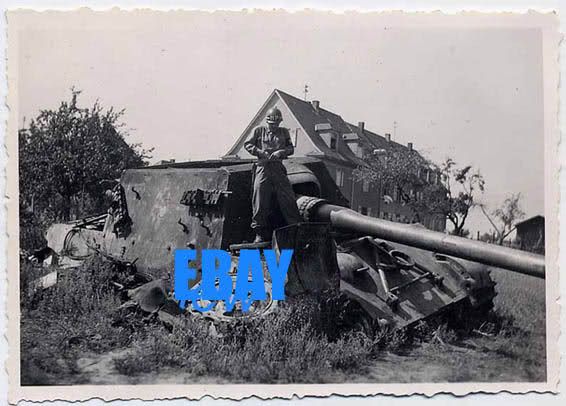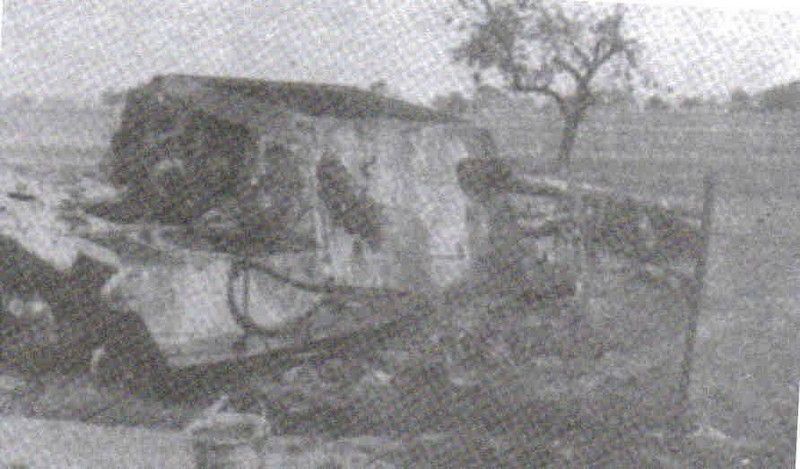 And the scale model